Providing Legal Protections for People with I/DD
AHRC Foundation is pleased to continue its support of the pioneering, interdisciplinary project in which students at Maurice A. Deane School of Law at Hofstra University, under supervision, assist families in need in obtaining the appointment of a guardian for their child with a developmental disability or delay who has reached the age of 18.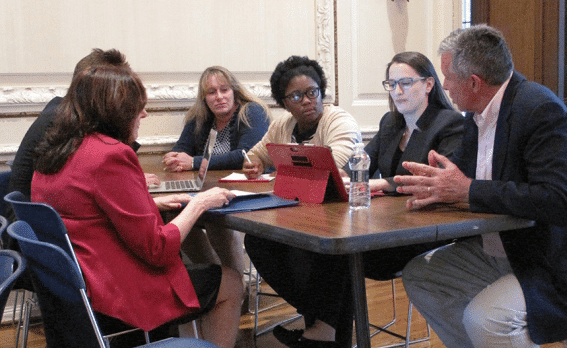 The project was developed by Hofstra University's Center for Children, Families and the Law (the Center) in response to the substantial and unmet need in Nassau and Suffolk counties for legal assistance in the guardianship process.
Families raising a child diagnosed with a developmental disability or delay often find themselves at an unsettling crossroads when their child/family member reaches the age of legal majority, while the person's ability to make medical, legal and other life decisions is severely compromised.
The Center's partners have included AHRC Nassau, Citizens Options Unlimited and the Baldwin Union Free School district. Partners typically share the information about the project to their constituencies toward helping high need families who lack financial resources. Since 2017, this partnership has resulted in over 50 families garnering an appointment guardianship for their family member.
AHRC Foundation additionally supports the Nassau/Suffolk Law Services Committee (NSLSC) to support its work, including its Education and Disability Rights Project (EDRP).
The NSLSC's Education and Disability Rights Project is a bi-county project that provides free legal assistance to children and adults between the ages of 5-21 with developmental disabilities in matters related to securing a free and appropriate public education (FAPE) and to securing services to which they are entitled through the Office of People with Developmental Disabilities (OPWDD)
Parents, when faced with having to advocate for their child before a school district, find that having an attorney or an advocate specializing in educational issues can be invaluable for the child's educational and social/emotional outcomes. Eligibility is based on the federal poverty level; most people receiving need-based benefits such as public assistance, SSI, Medicaid, or food stamps are eligible.